World Cup Mania: Put It to Work for You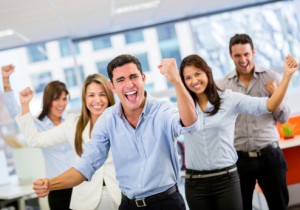 Did you see Brazil's goalkeeper, Julio Cesar, block a shot by Mexico's Raul Jimenez in extra time? Despite the 0-0 score, this match was one of the best yet of the 2014 World Cup. Oh, you didn't see it? Working? Setting a good example so your sports-loving direct-reports don't wander off to a corner and sneak a game in on their tablets?
Here's the reality: it's summer, and the World Cup is on. You can't ignore it. For some fans, and in some cultures, it's like Christmas – if jolly St. Nick only came only once every four years and brought a sack-full of camaraderie and national pride. They say if you can't beat them, join them. I say if you're going to join them, lead them. Don't just tolerate World Cup madness, embrace and leverage it.
"Uh, boss, (cough, cough, hack, hack) I'm sick…"
Looking for Work Life Integration?
Paul Marchildon, an experienced Leisureologist, can work with you and your team to increase productivity by incorporating a leisure mindset into the workplace.
Who hasn't pulled a muscle in June and struggled with debilitating back spasms – that happen to coincide with a Stanley Cup decision night? Who hasn't come down with a wicked summer flu, when the only succor for the pain and sniffling is watching the Blue Jays play the Yankees? This is the reality you face in June! A recent YouGov survey found that 25% of 25-34 year-old men said they're planning on coming down with something during the World Cup.
There are risks on both sides of the equation: as an employee, you face the possibility that your employer will see through your (probably lame) excuse and impose disciplinary actions. As the leader, you risk people calling in sick and leaving you without the means to satisfy clients and achieve key business objectives.
It can be even worse if your employees start suffering from "presenteeism." They're there, but not really. In a Wall Street Journal piece, for instance, a broker-dealer from NYC says he plans to have websites with updates and highlight reels up in the background and watch as much on TV as he could. When all else fails, he has a backup plan. "I don't smoke but I will make up cigarette breaks."
Simple solution for absenteeism, presenteeism, and 5 minute breaks that last 3 hours: pick a team and start rooting for them. At work.
McDonald's: Would You Like Football with That?
Why not engage your people – in the workplace and in the games? McDonald's UK has done just this. The restaurant chain organized 700 5-player teams for matches all over the region. The winners of the UK title, an all-women team, have traveled to Brazil to play in the global McDonald's Cup. Go, ladies! In addition, 11 managers who earned top marks for customer service won an all-expense paid trip to the beautiful South American locale to enjoy the festivities.
McDonald's reward manager, Neal Blackshire, says, "We are delighted to be able to give our employees the opportunity to share the excitement of the 2014 World Cup, and for our winners, provide a once-in-a-lifetime experience. We know that if our employees are engaged and motivated, this will positively impact our customer's experience." (And it can't hurt the chain to emphasize a healthy, active lifestyle!)
Incorporating World Cup Excitement into Your Workplace
So, you can't send employees to Brazil to celebrate the World Cup; there are plenty of other opportunities to integrate the fun and excitement. At the very least, set up a TV. People can migrate to the screen, take a few minutes to catch up on the scores, and go back to work. If they're just working on returning emails, why not sit down and watch at the same time? It's not covert – and that means they probably won't abuse the privilege.
You could go a few steps further too. Instead of passively allowing the games to happen, you can actively incorporate them into your corporate culture. Do you have a diversity program, for instance? The World Cup provides a perfect opportunity for a pool or competition that will get people excited about coming to work.
People can sign up for the teams/countries that they are rooting for and engage in some friendly rivalry. The winning teams could get free coffee each day. It's a simple approach, one that is easy to integrate, and it gets people talking to each other. What a great way for Sanjay in accounting to get to know Ricky in IT. Who knew they both loved Brazil?
Consider this: 3.2 billion people – or about 46% of the world's population – watched at least a minute of the 2010 World Cup. In football-crazy countries, like Brazil, 80% of the population watched at least 20 consecutive minutes. Even in the US, where soccer takes a backseat to American football and baseball, 31% watched at least 20 consecutive minutes.
Odds are, you have fans, whether diehard or occasional, in your workplace. Leverage their interest and use it to motivate and engage them at work. They're going to watch their favourite teams anyway; why not ensure they're watching, having fun, and contributing to your objectives?